Meet the Team at Buckle Family Chiropractic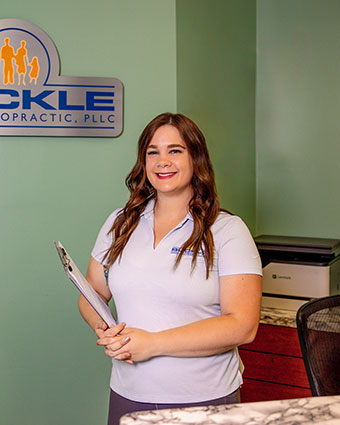 Tawni Ritondale, Office Manager
Tawni was inspired to work in the healthcare field as she's always appreciated the side of health/wellness without all the medications. What originally brought her to Buckle Family Chiropractic was her previous background in office work/reception. In addition to managing the daily operations of the practice, Tawni takes courses throughout the year to stay up to date on insurance changes.
Witnessing the Impact of Chiropractic on Patients
For Tawni, the most rewarding aspect of working at the practice is being able to see the difference in people from their first visit to the next. "No one likes to live in pain or feel like they aren't performing to their fullest; chiropractic can have a huge impact on that."
Experiencing the Effects of Our Natural Care
Tawni has a deteriorating hip condition that was at the point of her getting a hip replacement at age 26. A month later she started working here and getting chiropractic care.
With the help of Dr. Buckle's adjustments I've been able to postpone my surgery and live a more pain-free life. I not only work here, I truly believe and have benefitted from the care!"
Enjoying an Active Family Life
Outside the practice, Tawni likes to spend time with her husband and daughter. They enjoy biking, hiking and camping together when the Michigan weather allows. Tawni's daughter plays soccer so she and her husband spend spring/fall nights and weekends at the field cheering her on.
Book an Appointment
Contact us today to schedule an appointment!
CONTACT US
---
Meet the Team at Buckle Family Chiropractic | (734) 953-9933