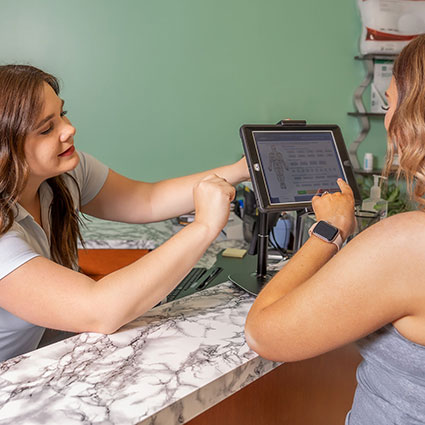 New Patients at Buckle Family Chiropractic
Get Back to Health Today
From the minute you step foot into our practice, we hope that you immediately feel at home.
After a warm welcome, we'll lead you to the front desk where we'll handle paperwork and insurance information. If you can, save time by filling out paperwork beforehand by downloading it here.
Then, we'll guide you to a room to meet our chiropractor Dr. Buckle.
NEW PATIENT FORMS

Your First Visit
At your first visit, we'll go through your medical history, an orthopedic examination and X-rays if necessary.  This is the time where I'll listen to your concerns, answer questions and then we can both discuss your options for care. If appropriate, we'll do an adjustment during the first visit.
Please plan for about 45 minutes for this appointment.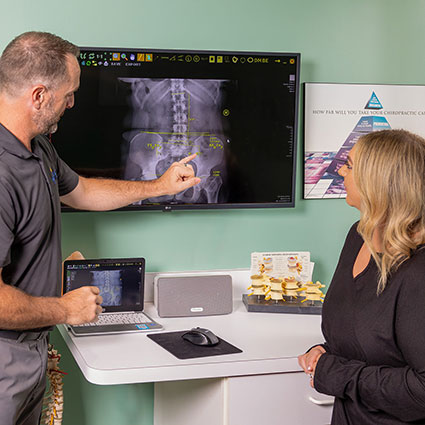 Your Second Visit
When you visit us for your second appointment, we'll discuss how you're feeling after your first treatment, go over your report of findings with you and then continue on with care according to your progress. Dr. Buckle is big on education, and we want to make sure you understand exactly what's going on with your care. We'll help you understand what chiropractic care is all about and what's really going on in your body.
Throughout your time with us, we'll continually monitor your progress and needs, changing plans if necessary so we stay on track!  Normal visits with us usually last anywhere from 10 to 25 minutes and then we'll get you out the door and back to your day!
Custom Chiropractic Care for Your Needs
Everyone responds differently to chiropractic care because everyone's body is different. We'll tailor a plan specific to your needs to ensure you get the right care when you need it. Wondering how long you'll need treatment for? We find that many of our patients love their refreshing visits to our office and continue to come back throughout their lives, though whether you continue is entirely up to you.
We'd love to help you get better. Contact Buckle Family Chiropractic today to book your first appointment.
CONTACT US
---
New Patients at Buckle Family Chiropractic | (734) 953-9933